« December 2005 | Main | February 2006 »
SO IT BEGINS
Place your bid now for an ad on Rocketboom! I'd hoped to interview them about this when we were on vacation, but never found a good time. The especially innovative part of this is that RB will be making an original ad for the winner each day, running after the show.
January 30, 2006 at 10:55 AM in Videoblogging | Permalink | Comments (4) | TrackBack
A NEW LOCAL BLOG
Amused Muse: Here I intend to sort the facts from the fish stories, the science from the pseudoscience, and the pure reality from the public relations.
Meanwhile, my favorite blog in the whole world remains Chuck's Blog. Although this is a close second.
January 28, 2006 at 02:30 AM in Weblogs | Permalink | Comments (0) | TrackBack
CHUCK AND MOOKI IN PRINT
In case you missed it on my Flickr, there's a nice article about Minnesota Stories featured in this month's Mpls St. Paul Magazine. Here's the photo with Mooki sitting proudly on my lap. Watch for Mooki's vlog to launch any day now.
One clarification to the article, which says: Despite the technology, the quality of the material is usually very good, sometimes almost lyrical (our favorite is the dark, Woody Allen-esque serial Chasing Windmills...)
While I have featured a Chasing Windmills video on MN Stories, it's a completely independent and compelling videoblog, deserving of it's own article - if not it's own thesis. I think Matt has the thesis covered. Now we just need some savvy writer to see that Chasing Windmills represents one possible future of film, right here in our backyard.

January 27, 2006 at 06:19 PM in Minnesota Stories | Permalink | Comments (2) | TrackBack
IPOD NANO: THANKS VMIX!
Check it out! It's my first iPod ever, believe it or not. It's a sexy 2GB Nano... plus it has Vlog Santa engraved on the back. Vlog Santa won a holiday video contest at a video portal called Vmix. Vlog Santa is, of course, hibernating (I assume) so I'm keeping his iPod safe until Yuletide next.
January 27, 2006 at 06:07 PM in Sexy Stuff | Permalink | Comments (5) | TrackBack
MNSTORIES + ROCKETBOOM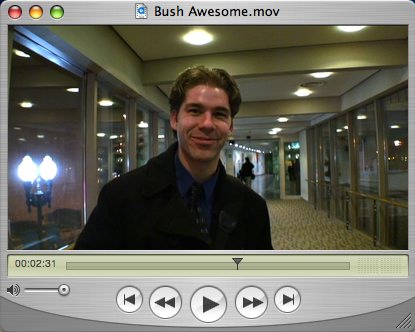 Check it out. Joint vlog action on Minnesota Stories and Rocketboom today!
January 20, 2006 at 10:26 AM in Minnesota Stories | Permalink | Comments (1) | TrackBack
SXSW INTERACTIVE (again!)
I first attended South By Southwest Interactive festival in 2003 (read about it here) for Blogumentary. Every year has been a distinct and incredible experience, mostly because of the people. There's really nothing else like it. The interactive fest is unparalleled, but mix in the best indie documentary and music, some booze, and -- well you get the picture.
This year marks my debut as a panelist. Along with Andrew and unknown others, our panel is "Video Blogging Business Models." I think I'm supposed to offer the Minnesota Stories locally-focused vlog business model. You know, the one that's paved my way to riches? Yeah, that one. I have been thinking about this a lot lately (Vlogonomics) so I think we'll have plenty to talk about. There are a couple more vloggy panels on the same day, hopefully not at the same time: "DIY Media: Consumer is the Producer" and "How to Add Video to Your Blog." I'm very happy to see this late addition of vlogs and DIY media to the SXSW schedule.
January 19, 2006 at 06:11 PM in SXSW 2006 | Permalink | Comments (5) | TrackBack
DEMAND ACCOUNABILITY
January 18, 2006 at 01:33 PM in Road to Democracy | Permalink | Comments (0) | TrackBack
CHUCK ON THE CURRENT
Hey, I was on the radio again. The best possible radio: 89.3, The Current with Mary Lucia! I have to say, when I started Minnesota Stories one of my personal measures of success - oh heck, just a personal desire - was to be interviewed by Mary Lucia. So I'm shutting the site down now and moving to New York. Not really, I'm not actually doing that.
Listen here [MP3, 5.5 MB]
Meanwhile, I'm afraid something has changed on the MNstories server and I can't login to post a new video. Some MySQL nonsense. Let me direct you instead to a new videoblog in town:
Also, some of you have asked about the comment registration. It's a pain in the ass, I know. It's hopefully temporary. I've been getting blasted with so much spam that it takes a very long time to delete and ban the offenders, time I don't have right now. Please be patient, I know you want to talk. :-)
January 18, 2006 at 03:12 AM in Minnesota Stories | Permalink | Comments (7) | TrackBack
VLOGONOMICS: PART I
There has always been a tension in the vlogosphere between the pursuit of the "show" model (spearheaded by Rocketboom) and the "personal media" model (evangelized by Michael Verdi and Ryan Hodson of freevlog.org). Of course those models are just two possible approaches to vlogging. I'm not even sure they represent different ends of a vlog spectrum, so much as different kinds of trees in the rich vlogging forest.
The most recent hubbub stems from this New York Times article: TV stardom on $20 a day. Is that for real, or hyperbole? Can you really create a "vlog show" with a big audience for $20/day? Do you even want to? Let's step back and look at some of the issues involved.

From Eric Rice's Epsilon Construct
CONTENT
If you're starting a vlog, presumably you have something to say. Ideas may be free, but content takes time and work. Maybe we could say "CONTENT = IDEAS + PRODUCTION."
Your content might simply be what's on your mind when you turn the camera on. That's the case with Steve Garfield's rant, I will never fly United Airlines again. This isn't scripted or particularly artistic - it's just Steve ranting, which is simultaneously personal and informative. The production value is minimal. It looks fine but is relatively unproduced. Steve went from idea to video with the push of a button. It's a wonderful thing.
Was it free? That depends on how you interpret the production costs:
EQUIPMENT
Camera. Steve's digital camera obviously cost something, say $300. Maybe he already had the camera, who knows? You probably need some sort of camera to vlog, whether it's a cheap still camera with video capability or a professional high definition camera. However, you can create animation or post/remix existing video to a vlog without a camera.
Computer/Net Connection. Yes, those things are very helpful. Sure, you could blog or vlog in an internet cafe or at a library. But many people have a computer and a net connection perfectly capable of creating and posting media to a blog. Is that a cost?
Software. Steve didn't need any software to edit his video - it's ready to upload as-is.
Hosting. Some of Steve's blogs are hosted for free on Blogger, but his vlog is hosted by Typepad for around $15/month. Steve could also host his video there, but instead he uses a service called vBlog Central run by our friend Sean Gilligan. Steve gets free video hosting in exchange for the beta testing he's provided to that service.
TIME
Time is money, right? This video only took Steve a minute or two to record. But in order for Steve to have something to rant about, he actually had to spend an entire day caught up in airline blunders. Is that a cost? How much is Steve's time worth?
OTHER COSTS
Steve didn't really have to do any research, or buy anything - or did he? Do we count Steve's plane ticket in accounting for the cost of this video? That would be a little extreme, since the incident was accidental, but you can't completely ignore such hidden costs.
REVENUE
We should also consider money being generated by a vlog, which offsets costs. Steve's vlog has an iTunes ad, a Google Ad, an Akimbo ad and a Busted Tees ad. Whew! But they don't bring in all that much revenue. All combined, Steve says they generate under $250/year.
GRAND TOTAL
If you ignore all the hidden costs, and assume Steve already had the equipment, and that his time is voluntary, then Steve is videoblogging for about 50 cents/day for the hosting. Of course, he could host his blog and video for free using OurMedia or Blip.tv, for example. If you throw in the ad revenue, Steve is actually profiting from his vlog. (Way to go!)
The other option is to perform some accounting voodoo on all of Steve's computer and video equipment, and figure out how much his time is worth, factor in lost revenue sacrificed to the time spent vlogging, and divide that by the # of videos he's produced - or something like that. That cost would be considerably higher.
Steve has definitely achieved a level of celebrity with his vlog, and this surely leads to other money-making opportunities: video work, vlog consulting, product placement, his own TV show - who knows? But consider that Steve doesn't have a regular job. How much time and money has he sacrificed to spend on blogging/vlogging? Is he making money or losing money? Does it matter?
That's all I have the energy to post about for now. I focused on this particular video of Steve's because it's so simple, and yet digging deeper reveals how complex the costs can be. Steve's vlog as a whole is difficult to categorize. I'd say it's a personal/show hybrid. Steve is sort of a walking talking show himself, doing lots of citizen journalism. But then there are videos of his mom and personal life, and of course the Carol & Steve Show practically defines the splendorous collision of the "personal" and "show" approaches.
Surely the world is better off having Steve Garfield in it, especially a vlogging Steve Garfield. That's the important thing.
Questions for Steve: Do you want to do this for a living? If so, when and how? What do you get out of vlogging, what do you sacrifice, and is it worth it?
January 15, 2006 at 01:12 AM in Videoblogging | Permalink | Comments (6) | TrackBack
WORCESTER DIARIES
Vlogmeister Carl Weaver has started a new MNstories-inspired local videoblog: Worcester Diaries. Looks like he's got a strong arts focus - hooray for that. I'll never understand why it's pronounced "Woosta."
January 14, 2006 at 05:25 PM in Videoblogging | Permalink | Comments (2) | TrackBack