GREAT RECRUITMENT VIDEO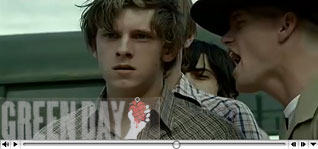 Green Day: When September Ends
August 18, 2005 in Music | Permalink | Comments (2) | TrackBack
HEY MAN (NOW YOU'RE REALLY VLOGGIN')

I love this song. I love this video.
Check out this sweet new vlog-style video from The Eels. [thanks, Miguel!]
June 27, 2005 in Music | Permalink | Comments (6) | TrackBack
THIEVERY CORPORATION

No fuss. No muss. Just good music with crappy still camera sound.
Lorika and I have been big fans of Thievery Corporation for about 5 years. It's sorta chic international lounge jazz, or something. But the live show is mind-blowing, way more energetic and groovy than I expected. I danced my fat ass off. The bass turned my organs to jello, and they remain in that state to this day. Get your groove on at Eighteenth Street Lounge Music.
May 17, 2005 in Music | Permalink | Comments (8) | TrackBack
GUEST VLOG: HOLLIS SIGNS LOW ALBUMS
My friend Starfire posted this on the Perfect Duluth Day blog:
The new Low record came out today! It is called "The Great Destroyer" and it is awesome. In honor of said release there was a signing at the Electric Fetus. No, it wasn't Alan or Mimi or even Zak. Miss Hollis Mae handled it all and she did a stellar job. She signed 28 CD's and 2 LP's. Hell she even did some custom artwork for special folks.
I just so happened to have a videocamera to film the proceedings (thanks Jill) and so I made a little Vlog post about it. Enjoy.
KEYWORDS: Low, Perfect Duluth Day
January 28, 2005 in Music | Permalink | Comments (2) | TrackBack